I've been living and working in the middle of Wellington for a loooonnng time. I love this city, and everything about it, but after driving out to all these gorgeous wedding venues each weekend, I've been finding myself yearning for some greenery. Being in an apartment (like many city-dwellers) we have four internal sets of walls, but only one with windows and a balcony. This means three blank walls (per room) in which to make a pretend window. Below is my step by step guide for how to make your own pretend window. Shoot, design, print, frame and enjoy! You'll need access to Indesign, or a similar program. Disclaimer: this is definitely easier for photographers or those familiar with these programs… otherwise bribing someone might be your best bet!
Step 1 Find a landscape shot you love
Ideally you want a full RAW shot. You could try this with a massive Jpeg, but talk with your print shop: each one has its own requirements. We can get away with quite a bit in Lightroom, but ideally, the more data in that shot, the better.
This was the shot I took after shooting Kirsty and Cohen's wedding in Te Horo. I was on my way over the Akatarawas, and I looked back to see this perfect sunset scene laid out. I kind of love pylons over a landscape; they always seem kind of lazy and sleepy, with those loopy wires slinking from hill to hill. 
Step 2 Open up Indesign for your template
I can't for the life of me figure out how to upload an Indesign file to WordPress, so feel free to email me and I can send you my template. If someone else knows how to upload one, tell all!
It's pretty easy stuff once you have the template open. You just drag and drop your photo and arrange it to the back of the frames. Then, you move your frames around until they line up in the mosaic or 'window frames' that you like the look of. You can build your own easily; just create outlines and drag your shots into them until they all line up.
You can then either export the images, or if you're like me, and want to add way more work to your plate, import each one into Lightroom and work on them individually.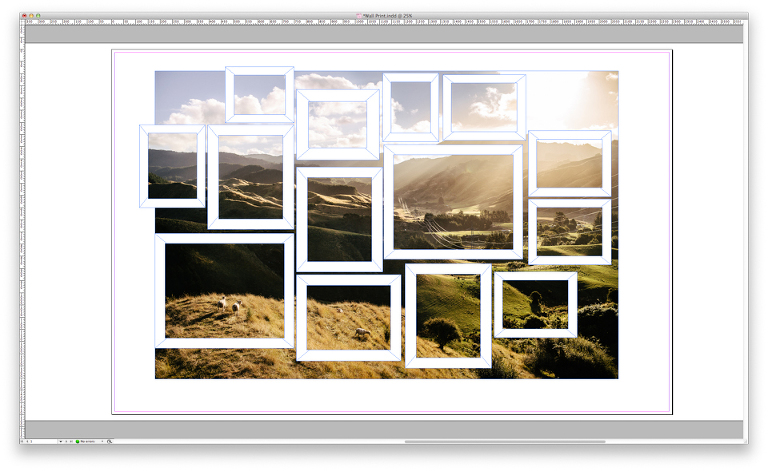 Step 3 Open Lightroom
You only need to do this step if you want to work on each shot separately. This might be the case if you're blowing the image up larger than the original photo was intended, or just to tweak the image as needed. For me, the shadows were losing their contrast at the higher sizes, so I deepened the shadows, then went to work on noise control and adding some grain (to… cover up the noise control).
Fact is, most people won't investigate this collection up close: it needs to be viewed from a couple of metres away to get the whole picture, so the pixelation that might be occurring won't be too much of a bother. It's pretty forgiving really.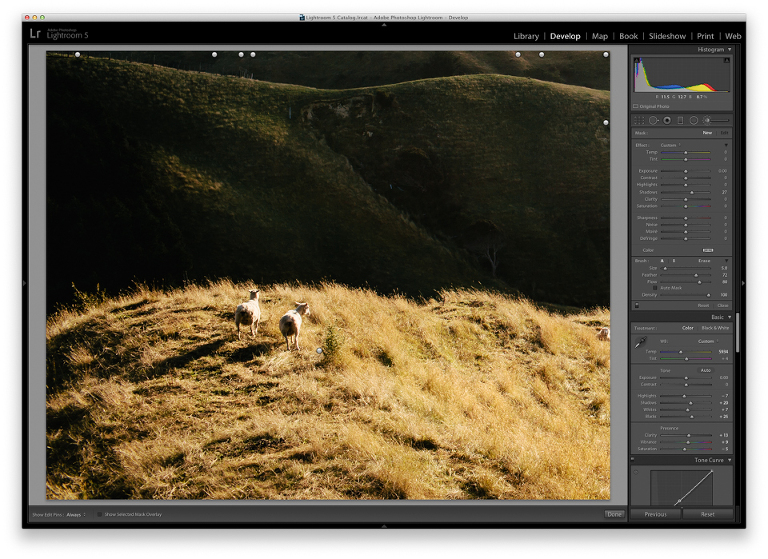 Step 4 Send to print
I used Queensberry labs because I really like working with those guys. They were super lovely and sent me some test prints back and forth to experiment with upscaling, which is pretty important when you're trying to make 14 large prints from just one single shot.
The last part is the fun part! Put all the shots into frames and play puzzle with it on the wall. We put ours by the entrance and over the hall table, it's a nice way to come home each day.